10 Best SaaS Website Builder Platforms for Free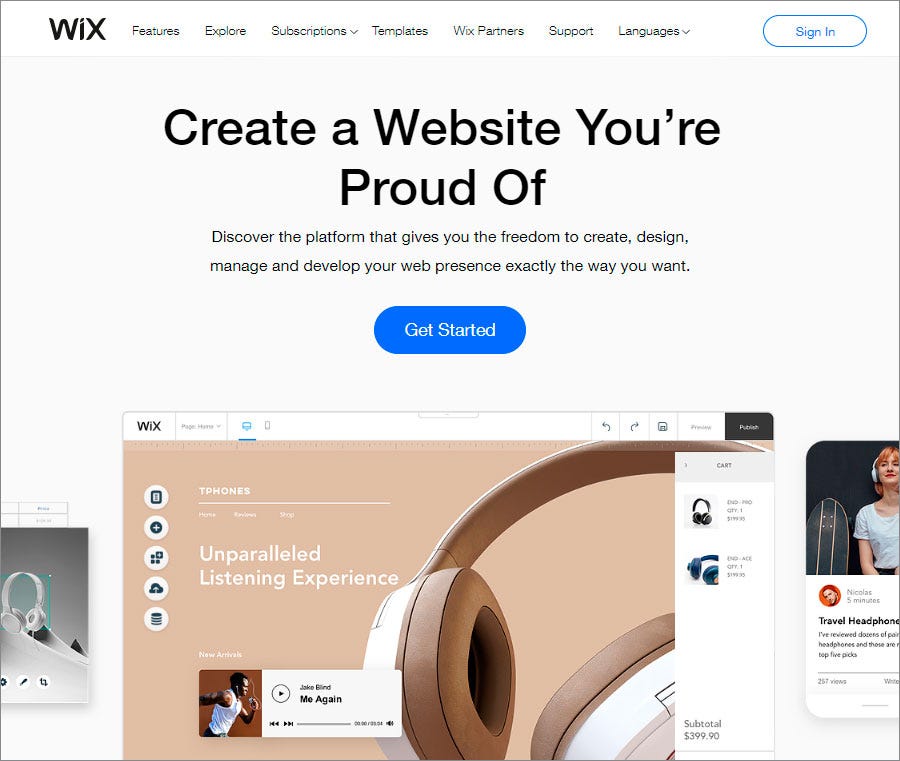 Every business requires a website to survive in the current digital ecosystem. No business can succeed without online presence. The list is long — you will require a website, blogs, forms, social media, and SEO optimization and much more to get noticed by your customers to stay in business.
Fortunately, you don't have to be a pro in website building to create your business site, and not every company has a budget to get a new website created by professional developers. You can easily use a free SaaS website builder to give your business an online presence with all the basic tools you need to get up and running.
Here are the top 10 SaaS website builders for free:
Wix
Wix is the best free website creator if you're looking for ease of use. One of its best features is that Wix offers more than 500 designer templates to choose from. Each template is highly customizable. You can also access over 100 fonts. You can upload your own as well, in case you don't like any of the fonts available.
Wix is one of the easiest DIY website builders with the scope to integrate animations, videos, etc. These features increase the engagement quotient of your website. If you're not comfortable with the DIY approach, Wix ADI (Artificial Design Intelligence) will design a website for you. If you are a tech-oriented person, on the other hand, Wix offers Corvid. It is a free development platform for advanced web applications.
Pros
Creating websites on Wix is super easy, even if you do not know how to code
Wix facilitates automatic backup, ensuring your data is safe
users vouch for its efficient support team
The SEO features get your website ready for basic search engine optimization and visibility
Cons
You cannot change the template once your website is live and you cannot export your website to any other platfor
For freedom from Wix ads, you need a paid plan
The free version does not offer payment support and Google analytics
The bandwidth ranges up to only 500MB.
2. Weebly
This platform has a user base of more than 35 million websites, making it one of the most trusted, user-friendly, and strong website building platforms. You can design and build blogs, e-commerce stores, or personal websites without having to code.
Up to 500 MB storage, ease of use and customization, and inbuilt SEO support are some of the preferred features. One great feature of Weebly is that there is no restriction on exporting your website to other platforms.
Pros
Weebly (free) provides free website hosting, 500 MB storage space with lifelong services
Mobile optimized
Easy access to chat and email support, and to Weebly's community forum
This platform also offers a lead capture feature with contact forms
Cons
You will not be able to customize the domain name, which means your website URL will be a subdomain of Weebly
Advertisements are automatically added to your free website
There are only 35 templates to choose from
Image editing options are also extremely limited
User reviews reflect that the loading speed gets slower as the distance with the U.S. increases.
3. WordPress.com
With over 1.2 billion active websites, WordPress is the most preferred option amongst free website builder software. It is released under the GNU General Public License, which implies that there are no restrictions involved in downloading, editing, customizing, using, and selling codes as long as they release it under the GPL license.
There are many free themes to choose from with easy customization options. Efficient onboarding support, 3 GB storage space, inbuilt analytics, and good loading speed are some of the best features of WordPress. Robust customer support is another big advantage.
Pros
Most WordPress designs and themes are responsive making it mobile-friendly from the start
Websites created on this builder platform are SEO-ready
The codes are favored by Google Indexing with customizable SEO components
Cons
Although the website is free, many themes and plugins are paid
With more than 20% of websites being built on this builder platform, it is a prime target of hackers
Customer support is not very helpful if you are using the free version, making it difficult for website owners
4. Webnode
If you are planning to build multilingual websites, Webnode is the website builder platform for you. Webnode supports more than 20 languages and interestingly extends support in all of them.
This platform also offers more than 100 customizable templates to choose from, and 100 MB storage with 1 GB bandwidth. Integrated SEO and Google Analytics support are bonus points. No ads ever and the option to create an unlimited number of pages are also great features.
Pros
Several template with responsive designs
No ads ever
Integrated SEO and Google Analytics support
Multilingual support with 24 language options
Unlimited number of pages
The sitemap for your website will be automatically adde
Cons
Webnode supports basic blogging features and only 100 MB storage space.
Support team accessible only through emails
Templates aren't all that great
5. Strikingly
If you want to build a free website really quick — this is the website builder platform for you. It has a plethora of templates, with excellent customer service. Established in 2012, this platform has also gained in popularity as it is meant for beginners with no technical knowledge.
The focus is on speed — getting your website created and live fast. So, the templates are sleek, but limited scope to customize them. A bonus point is that the free plan includes one store with one product.
Pros
The template designs are mobile-friendly
This website builder is great for single-page website
You can open an unlimited number of sites for fre
500 MB storage per site with 5 GB bandwidth per mont
24x7 support
Cons
Strikingly has very limited customization option
You can only do basics like altering text size, replace images, and add a few new section
Call-to-action button is available only in the paid version
Only one-page websites are possible
6. Webflow
If you do want to follow templates and create and design something of your own, then this website builder is the perfect choice for you. Although the website foundation consists of templates, Webflow gives you the freedom to opt from hundreds of professionally designed templates and then customize it.
Experts say this may not be the best for beginners, but it is a great platform for designers who want a lot of flexibility with customization. Up to 2 free projects (websites) with a two-page limit are available. Its client billing support is a big help. Sound onboarding support and inbuilt with helpful tutorials and guides are beneficial. Inbuilt SEO support is also available.
Pros
Webflow facilitates you with the power of HTML, CSS, and JavaScript
Code will be generated automatically, instead of you having to write it line by lin
Sound onboarding suppor
Automatic backup
Dependable SEO feature
Cons
A 'made in Webflow' icon will forever appear on your website if you decide to use the free versio
You will have to opt for Webflow as a host and hosting is a paid feature
The learning curve can be difficult to navigate for beginners
7. SITE123
Responsive web design, SEO optimized, free hosting, free image and icon library, multilingual website, and so on — if you expect your website to have all these features and more, then SITE123 is for you.
Designed for do-it-yourself beginners, it's a fast-growing platform. Easy integration of third-party tools and good blogging support are two other pros. Step by step tutorial with robust support through 24x7 live chat helps fast setting up.
Pros
Access to professional fonts, customized forms, social media integration, free SSL certificate, and much more.
Choose between building one page or a multipage websit
Ability to schedule blog posts, auto-confirm comments, RSS, and creative blog template
500 MB storage with 1 GB bandwidt
Free images and icons librar
Cons
You will not be able to change the templates, once your site is liv
This website builder does not allow much creative freedom and flexibility
Premium plans are expensive as compared to competitors
8. Bookmark AI Website Builder
You can build a website well within a couple of minutes — yes, it is possible, if you choose Bookmark. This smart AI website builder asks smart questions (not cumbersome) and helps build the easiest, fastest and beautiful websites.
The AIDA (Artificial Intelligence Design Assistance) feature of this platform makes it suitable for both beginners with no technical knowledge, and professional website designers. Engaging e-tutorials, flexible design options, and 500 MG storage with 1 GB bandwidth are some of the advantageous features.
Pros
The website builder allows text, images, videos, and much more to be dragged and dropped directly on to the webpages
You have access to some advanced features such as event registration forms, eCommerce stores, third party tools, and so on if you choose to build your website on this platfor
500 MB storage with 1 GB bandwidt
Free SSL certificatio
Cons
Editing options are multiple, making it difficult for you to understand where to start fro
Page loading time can be slow
Signature fonts in the visual editor are too small
9. Google Sites
Google acquired Jotspot in 2006 to reintroduce it as Google Sites in 2008. Recently, in true Google style, an all-new version has been launched while the Classic Google Sites coexist. You can build a website if you have a Google email account.
This platform makes building stunning websites effortlessly. This platform is free with unlimited use, traffic, and websites — only the Business websites are paid. The newer version looks more modern while the classic version has some extra features. It uses your existing Google account so that you get 15 GB storage space. Easy integration of all Google products, including Google Analytics, is a major advantage.
Pros
The websites built on this platform are automatically integrated with Google's products
Your website is automatically backed-up on your Google Driv
You can access it on-the-go on any devic
The websites are simple, and you can easily build a multi-page functional website quickly and easil
Cons
The design options and template customizations are limite
No adding or editing CSS
Although the templates are beautiful, editing the layouts or any core parameters is prohibited by Google
With Google — you never know when they'll make the version obsolete
10. Webs
Websites you build on Webs website builder platforms are SEO friendly, mobile optimized, and include your social networking IDs with social icons. The focus here is to provide a user friendly DIY website builder interface with an easily navigable learning curve.
Customizable templates, an SEO Booster feature, and social network integrations are the key USPs of Webs. Users can try out the free plan using which they can create a basic website, although with Webs advertisement banners visible on pages.Pros
It allows you to create websites through a drag-and-drop interface
The themes are professionally designed
The range of SEO features makes it easy for beginner
Cons
Access to limited functionalities
The builder's banner is displayed at the bottom of the screen of your website
You cannot customize your domain name — it will appear as a subdomain of Webs platform
Which website builder should you choose?
Among all these SaaS website builders, we recommend Wix as the most useful option, considering some time in the future you'd want to upgrade, and hence need a builder with the full range of features, available at a reasonable price.